The ATM's Workshop
Tips, Techniques, and Projects for the Amateur Telescope Maker / Astronomy Enthusiast
John D. Upton Site Last Updated: March 27, 2018Page Last Updated: May 20, 2017
Welcome To The ATM's Workshop Website
Amateur Telescope Makers (ATMs or TNs [Telescope Nuts] for short) are a varied lot. Our workshops often reflect that diversity. In our quest for that perfect telescope or accessory, we resort to building some or all of the components ourselves. ATMing can span the gamut from building everything yourself to just making modifications or accessories for your favorite manufacturer's product. ATMing as a hobby allows you to bring your own unique ideas, skills, and talents from other hobbies to the forefront. In this way, you can enjoy the pleasure of working at a combination of several of your hobbies at the same time.
The ATM's telescope and equipment often says a lot about the builder's other hobbies. Many ATM's telescopes are works of art in terms of woodworking, metalworking, optical or mechanical design innovations, electronic accessories, or some other aspect. While many ATMs build their own telescopes to save money, others do it for the fun, satisfaction, educational value, and varied other reasons. In addition to building telescopes, ATMs often end up building many of the specialized tools their hobby projects require. This can often lead to new projects that build (and feed) upon themselves and can lead the ATM into worlds they never knew existed.
Website Feature Article Contents
This website contains a number of quite long articles dealing with various aspects of amateur telescope making and astronomy in general. Each of these articles strives to cover the topic at hand to the same depth you might expect from a detailed magazine article or chapter in a book. To amateurs who have already built a complete telescope or ground, polished, and figured their own telescope mirror, these articles may seem ponderously slow reading. For those new to the hobby, I hope the detailed coverage of each subject will serve as a step by step starting point to understand the processes and methods at hand.
The feature length articles here are organized into sections to make the subject information easier to find. Some articles don't fit well into just one section so are indexed in multiple places. Hopefully, you will be able to find just the information you need without having to browse or read the entire website.
Website Blog Entries
A number of short articles are included on this website as blog entries. These entries are often little more than musings on subjects related to astronomy, amateur telescope making, and other DIY activities. They are being consolidated here from several other sources. The blog articles are indexed both by topic (to make them easier to browse) as well as by date. The two indices are cross-linked so that the reader can explore more easily.
About This Website
These pages are intended to give you some project ideas, tips, and pointers to help you in your quest for your perfect telescope. You are freely encouraged to add these tools and projects to your own workshop. Most images included as thumbnails in the feature articles may be viewed at larger sizes by clicking on the image. If you wish to contact me regarding any articles on this website, simply click on my name in the copyright notice at the bottom of each page.
About The Author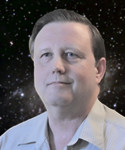 John D. Upton is a retired electrical engineer living in central Texas, USA. His formal educational background is in science and engineering holding Bachelors degrees in both Physics and Electrical Engineering. He has been interested in and pursued astronomy as a hobby for over 60 years.
His interest in amateur telescope making began in the mid 1960s after reading Neale Howard's book Standard Handbook For Telescope Making. It was several years before he ground and polished his first mirror -- a 6" F/8 that was actually quite bad. That experience was followed with several 8" and larger mirrors which turned out to be quite acceptable performers.
While he currently observes and does astrophotography with commercial telescopes and mounts, his interest in and love for ATMing is alive and well. More often than not in recent years, the DIY aspects of his hobby have been embodied in tools and accessories to make astronomy more enjoyable and rewarding.